Mothers Day Gift Guide 2023
We've rounded up our ultimate gift guide for Mum this Mothers Day.
Years of experience in store has taught us one thing - Christmas, Mothers Day, birthdays. Gifting often gets left to the last minute, sneaks up on the givers and then they are in a fluster trying to find something. Not to play into stereotypes, but I'm going to dob on the men here - they are usually the culprits of the last minute purchase.
We are here to make it as easy as possible. Send your significant other/kids this link filled with ideas. Then when they come in store on Saturday (because let's be honest that's when it will happen) they will be armed with all of the options and the process will be streamlined for them!
I've listed all the options with links and explanations below, as always send us a DM or visit us in person and we will gladly help.
Tess x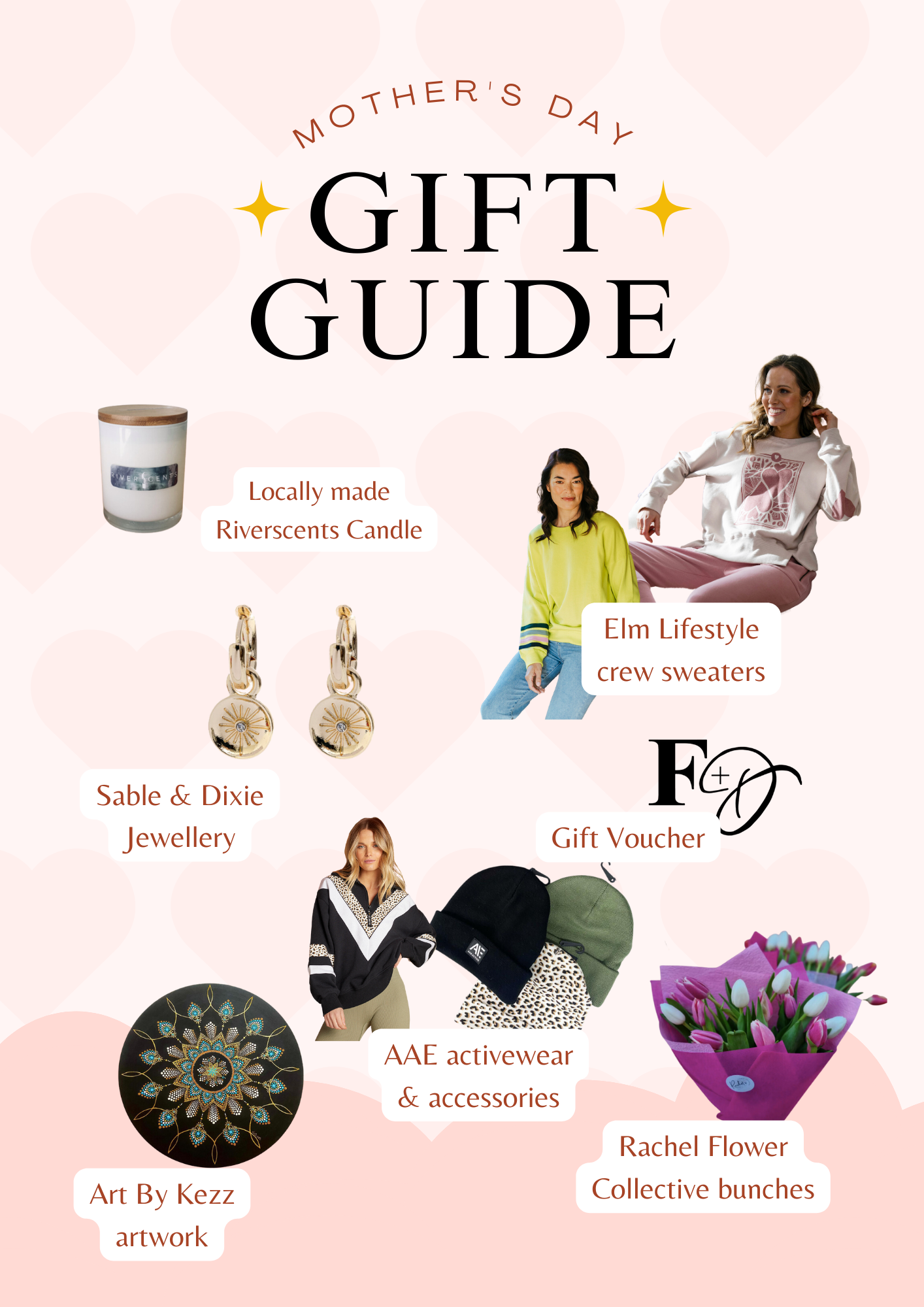 The go-to gift idea. Riverscents range are locally made to Loxton with a beautiful range of scents and an excellent burn time.
Ok, if you're wanting to know what Mum's favourite brand is - I'm going to give you the hot tip that it is most likely Elm Lifestyle. Fantastic range of sizes, fun designs and exactly what Mum wants to lounge in on Sunday while you cook her that delicious breakfast, lunch and dinner.
Not only is jewellery always appreciated, it's a fun way to get the kids involved. Over the years we have seen many little ones come in with another family and take great pride in choosing something so special for Mum.
4. All About Eve Activewear & Accessories
It's Winter. A lot of mothers are spending time on the sidelines of football, soccer or netball courts. Get her something to keep her toasty warm. Whether its a cosy jumper or knitted beanie - we can make your budget work for you.
Some of the most commented on pieces in store are the stunning works by local artist (and my Mum!) Kerry Servin. There are a range of pieces, sizes and prices to suit any budget - or get in touch with her directly here to organise a custom piece / gift voucher.
Speaking of which - gift vouchers are our go-to recommendation if you are unsure. Not only is it the gift of the voucher value, it is also the gift of time. Time for Mum all to herself. Time for Mum to choose something just for her. Time for Mum to allocate aside on a weekday afternoon or Saturday morning to prioritise herself.
Gift vouchers can be purchased both in store and online.
7. Rachel Flower Collective Flowers
Last but absolutely not least, flowers are a fail safe option. A pop of beauty and delight. Rachel delivers fresh bunches to us weekly in store but you can also order directly through her here.
P.S all the text highlighted in orange above are clickable and will take you directly to that suggestion! x